APPLICATION 12 – PREDICTIVE MAINTENANCE
Worn bearings and mis-aligned pulleys can cause unexpected downtime usually at periods when it is least expected and highly unwelcome. We can predictively identify areas of potential problems and literally see it before it becomes a problem!
Thermal imaging is a valuable tool in preventive maintenance of electrical, mechanical and structural systems, able to help detect problems, prevent unscheduled downtime, guide needed corrective action and increase plant safety.

Injectors - High injector temperatures can indicate plugging. A plugged injector will show very hot on an infrared scan. This allows inspectors to pinpoint the problem before it becomes a serious hazard. It increases worker safety and reduces the amount of down time, saving the company thousands of dollars every year.

Mechanical & Electrical - The motor in the background is revealed by IR thermography to be much hotter than the one in the foreground,which is operating under similar load conditions. FLIR IR cameras are ideal for inspecting rotating equipment such as motors, pumps, motors, bearings, compressors, and mechanical drive gas turbines.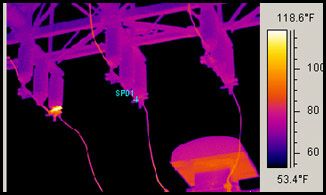 Preventive maintenance outdoor electrical infrared thermal image
ADDITIONAL INFORMATION:
Infrared Thermography Guide