APPLICATION 1 – RESIDENTIAL BUILDING SURVEYS
The most efficient procedure for determining the thermal performance of a building envelope is with infrared thermography. It can be used to identify heating and cooling loss due to poor construction, missing or inadequate insulation and moisture intrusion. Correcting the defects plays a significant role in increasing building efficiency and structural integrity. Thermography can identify surface temperature variations of the building envelope, which relates to problems in the structure, thermal bridging, moisture content and air leakage. Two primary mechanisms for heat loss in buildings are conduction through the walls and air leakage. Both can be identified from the surface of the building with infrared thermography. Early correction of the faults identified can be made before extensive damage occurs.

The image above illustrates an abnormal heat source emitting from the corner bottom floor of this home. Heat signatures of this magnitude most likely indicate an indoor marijuana grow operation taking place in the basement of this rental home.

This inside wall is inspected without the aid of thermal imaging.

Thermal Image indicates same area in left picture requiring further investigation. Moisture readings on moisture meter were elevated. This lead to finding faulty shingles on a recently installed roof which required warranty work.




Locating Hydronic Radiant Floor Heating problems are easy to spot with a high resolution thermal imaging camera.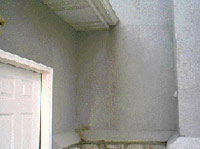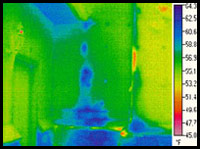 The above photo shows moisture penetrating a stucco wall, further effects and consequences moisture behind walls can result in structural damage and can provide perfect conditions for the growth of mould and mildew.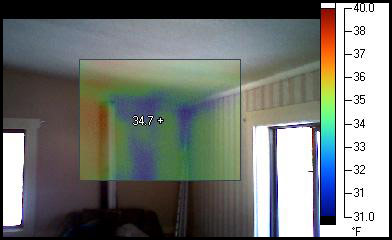 This living room wall area shows water and mold behind the wall. The insulation behind this wall area has been getting wet for some time now by ice backup from the roof.

The photo above show the cold area were the insulation was wet at one time. The ceiling in this room is losing a large amount of heat. This area of the home has had ice damming before and the R-factor is real low in the insulation.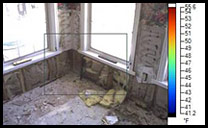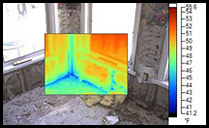 The two pictures above demonstrate a remediation job that has been started, but has yet to dry.