APPLICATION 2 – COMMERCIAL BUILDING SURVEYS
The most efficient procedure for determining the thermal performance of a building envelope is with infrared thermography. It can be used to identify heating and cooling loss due to poor construction, missing or inadequate insulation and moisture intrusion. Correcting the defects plays a significant role in increasing building efficiency and structural integrity. Thermography can identify surface temperature variations of the building envelope, which relates to problems in the structure, thermal bridging, moisture content and air leakage. Two primary mechanisms for heat loss in buildings are conduction through the walls and air leakage. Both can be identified from the surface of the building with infrared thermography. Early correction of the faults identified can be made before extensive damage occurs.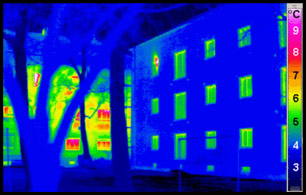 The dark colours on this thermal image of an energy efficient apartment building (right) show how little heat is escaping compared to a traditional building (left). This is due to double pane windows and proper insulation.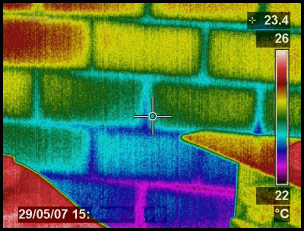 This infrared image is an internal view of a plastered wall. In many circumstances, the thermal data of the brick or block wall will appear as if there is no plaster covering. The Mauve and dark Blue is dense rising moisture. A wide view of the wall would pictorially show the full extent and travel direction of the moisture.

This thermal image of a public school shows water wicking up the exterior wall in blue.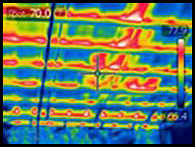 The interior ceiling of this warehouse shows excessive signs of moisture penetration not visible to the eye.