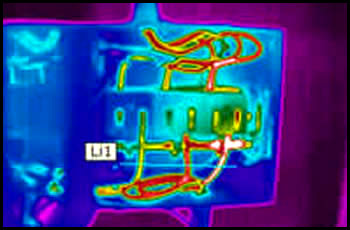 Our client required a thermal survey to comply with insurance policy changes. We completed the entire survey in one morning with minimal disruption. The report was completed that afternoon and his report, highlighting overloaded components, out of phase power supplies and poor connections, was on his desk the next morning. Not only did this meet his insuarnce policy requirements but allowed him to plan a maintenance schedule keeping shut down time to a minimum.

CASE STUDY 2 - ENERGY EFFICIENT ASSESSMENT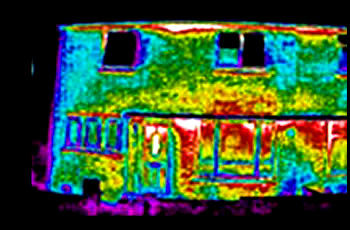 Infrared thermography is the perfect tool for assessing energy efficiency & provides visual evidence of poor insulation.


CASE STUDY 3 - FLAT ROOFING
Our client was undecided whether to strip or overlay his customers 1500m² flat roof. A roofing contractor had informed him that it showed considerable moisture ingress below the waterproofing and recommended a complete strip and re-lay. Unconvinced of this information he commissioned WCTI for a thermographic survey which revealed moisture ingress in only isolated areas equivalent to 26m². These areas were successfully stripped and re-laid saving our client $76,000 on phase I alone.
Our thermographic surveys can detect trapped moisture below waterproofing, damaged/missing insulation, hidden structural features and many other thermal anomalies.

CASE STUDY 4 - INSULATION ANALYSIS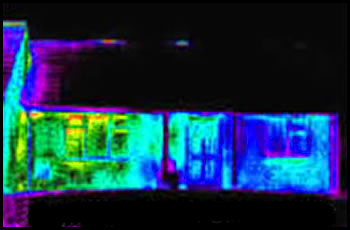 In this example we surveyed mulitple homes using infrared thermography to asses the condition of the cavity fill insulation.The survey took one day on site with no disturbance to the occupants. All internal heat sources and room layouts were taken into account during analysis and confirmed that 60% of the homes required attention.
Our re-test then proved that the work had been carried out satisfactorly.

CASE STUDY 5 - POROUS BRICKWORK
Infrared thermography can detect porous brickwork quickly and inexpensively with just one image. Because you have a graphic record of the areas effected you can put together a detailed program of repairs.
Entire buildings can be assessed before and after repairs, ensuring all works have been carried out correctly.

CASE STUDY 6 - VOIDING WITHIN WALLS
Infrared thermography and ground penetrating radar are ideal for locating voids within structures. Traditional methods involve time consuming destructive techniques. These methods are not always possible when analysing historic and listed buildings.
Using thermal images we are able to pinpoint the locations of the wall voids, reinforcements and other hidden structural features.